Kitchen Remodeling Southlake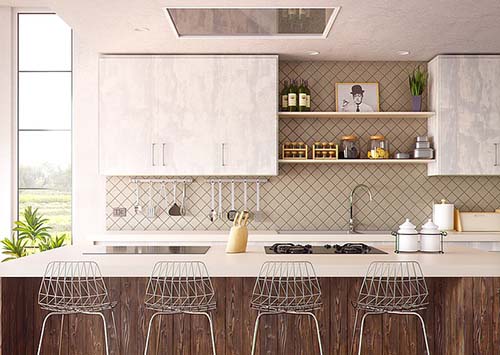 Best Kitchen Remodeling in Southlake, TX
Southlake Kitchen Remodeling offers expert kitchen remodeling services. Our team of skilled contractors has many years of experience in remodeling all sized kitchens. A fantastic kitchen remodeling job provides numerous benefits to you and your home. A newly renovated and upgraded kitchen increases the value of your home if you're looking to sell and adds a touch of beauty and makes it a more functional space for cooking and entertaining guests. Contact us today to discover how we can help you with all of your kitchen renovating needs.
Renovating a run-down and outdated kitchen is easy with the right people ready to tackle the job. Our crew of contractors ensures that every square inch of your kitchen is utilized so you can prep meals and make a breakfast smoothie all at once. With improved walls, sleek new countertops, vibrant backsplashes, lovely flooring, enchanting new fixtures, modernized appliances, and an improved sink(s), we can turn your drab kitchen into a pleasant space! Updating your outdated and basic kitchen area into a unique and functional space is easy as pie with our experienced contractors.
Kitchens are one of the most important rooms in your home. From cooking, eating, prepping, doing homework, entertaining guests, and midnight snacks, we all spend a lot of time here. Transforming one of the most used spaces in your home into something functional and beautiful for everyone to enjoy makes perfect sense. Our team of contractors will install updated cabinets, bright light fixtures, useful sinks, and so many other amenities to ensure your kitchen becomes the space you've always dreamed of.
Complete Kitchen Remodel
Your kitchen is the heart of your home. With our excellent and thorough remodeling process, you'll have a completely updated kitchen! Our skilled and professional contractors will remove all of the outdated and run-down kitchen features and replace them with personalized and functional features. You get to choose your own unique design and your favorite materials, and we'll install them at a great price!
Choose your favorite designs for your stove, oven, fridge, microwave, sink(s), cabinets, and other various items to fit your unique style, needs, and budget.

Switch out dim lighting with bright custom pieces to illuminate your kitchen to make it feel spacious.

Throw out your run-down and old appliances, cabinets, and countertops and replace them with beautiful new ones, so you have optimum storage and prep space.
Our Process
Whether you're looking for a small kitchen upgrade or a complete kitchen overhaul, Southlake Kitchen Remodeling has the right contractors to tackle the job. Remodeling any sized kitchen will become completely effortless with our crew on the job. Your specifications will be considered throughout every aspect of the design and remodeling process. Your dream kitchen can finally become your reality.
After you decide on the design of your dreams, our team will begin the remodeling process by taking out what needs to be removed. By doing this, we are ensuring a speedy process of inputting the new kitchen designs. The products and designs you choose will be input quickly, professionally, and precisely so you can enjoy your dream kitchen as fast as possible.
Choose The Best!
Your kitchen is one of the most important places in your house. It should act as a functional space the fits your lifestyle. A beautiful kitchen offers you a small reprieve from the stresses of daily life. We offer many unique and elegant design options and a speedy installation process. Our team is a cut above the rest.
The products, installation process, and designs are the exact ones we would use in our own homes. We fully support their lifetime guarantee.

The price agreed upon initially will be the price you pay at the end of the project.