Closet Remodeling Southlake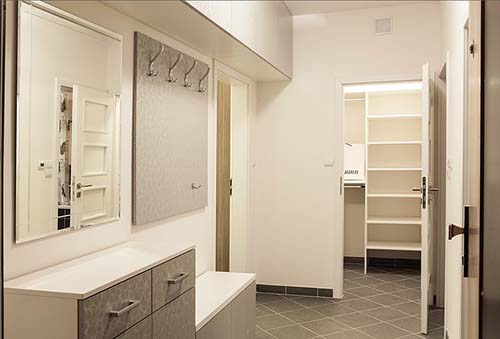 Expert Closet Remodeling in Southlake, TX
Besides kitchen remodeling, Southlake Kitchen Remodeling also offers an excellent closet remodeling service. Our team is composed of highly skilled and experienced contractors who specialize in closet remodeling. From spacious walk-in closets to reach-in closets, our crew can turn any sized closet into your dream closet.
Remodeling a cramped and outdated closet has never been easier than it is with Southlake Kitchen Remodeling's team on the job. We ensure that every available inch of space will be optimized, so you have maximum storage space. From installing more shelving, built-in dressers, and more hanging rods, we can transform a tiny and crowded closet into an extraordinary space! Updating your closet(s) from small and dysfunctional spaces into personalized and chic space is easy with our crew on the job.
Closets are an essential part of our everyday lives. They hold our shoes, clothes, and accessories so we can get ready to experience the day and interact with the world around us. Expanding and updating one of the most important areas in our houses makes sense! Our crew can input more hanging rods, more shelving, dressers, and drawers to increase the amount of functional storage for your expanding wardrobe.
Fabulous Walk-Ins
The walk-in closet you've always dreamed of can finally become a reality. Maybe you want your closet to act as your personal dressing room full of shelves and even a sitting area for you to put on your shoes. Our team has the best people for you to hire no matter what you want your closet to look like. Our crew of contractors is devoted to providing you with a fully transformed and stylish space so you'll always be organized without giving up your lifestyle. Your collection of clothing that has expanded throughout the years is a reflection of you, your life, and your personality, so a suitable organization space allows you to choose the perfect outfit quickly and efficiently.
A closet is so much more than a space to store your dresses, pants, jeans, suits, sweaters, and shoes. Your closet should offer you a relaxing atmosphere as you prepare for the day or unwind at the end of the night. Our team can design, build, and install a beautiful, fully custom walk-in closet with ample space that allows you to get dressed and undressed with ease. Your shoes, clothes, and accessories will be displayed beautifully in an organized and easy to reach manner.
Luxurious Reach-Ins
Large walk-ins aren't the only closets that deserve to be updated. Our crew can also help you maximize even the smallest closets. Perhaps you have a small reach-in closet that barely holds your winter coats and summer dresses. Our team is knowledgable in turning a small closet into an area where every inch of usable space is utilized for a fully functional space. From hanging rods, shoe racks, and adjustable shelving, we can create a space with sufficient storage for any lifestyle. Your entire wardrobe will finally fit after we've finished the job!
Work With The Best
Your closet(s) should reflect your personal style and make preparing or ending the day an effortless task. We offer a multitude of beautiful designs to fit everyone's unique style and budget. Southlake Kitchen Remodeling makes custom design installation easy to allow you to continue your day effortlessly. If you're looking to remodel your closet(s) to create the most beautiful space at bargain prices, call us!